BasicMed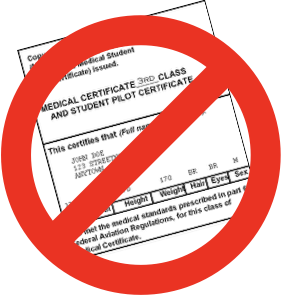 BasicMed is the name the FAA is using for the new Third Class Medical Reform that became effective on May 1st, 2017. BasicMed eliminates the need for a third class medical certificate for the following operations:
Private pilot operations (no commercial operations) day or night, VFR or IFR,
Below 18,000 MSL and at 250 KIAS or less,
With an aircraft certificated for 6 seats or less and 6000 pounds maximum takeoff weight or less,
Carrying 5 passengers or less,
Within the United States (no international flights, except Mexico and The Bahamas).
Under BasicMed, your state licensed physician can certify your fitness to fly if:
You have held a medical certificate of any class, regular or special issuance, that was valid on or after July 15th, 2006,

and

Your most recent medical certificate has not been revoked or rescinded,

and

You have not been deferred or denied on your most recent attempt to obtain a medical certificate,

and

You have not had a disqualifying event (cardiac, neurologic or mental health) since the issuance of the last certificate.
The certification by your state licensed physician is valid for four years from the date signed.
In addition, you must take an online, medical self-certification course every 24 calendar months to operate under BasicMed. AOPA offers such a course at https://basicmedicalcourse.aopa.org/. This is an excellent course and we recommend it for all pilots, even if you are not planning to fly under BasicMed.
AOPA's BasicMed Pilot and Physician Guide contains all the information you will need to get started with BasicMed.
Is BasicMed right for me?
The FAA accepts BasicMed for any operation that would previously have required a third class medical certificate. The choice of how you certify your fitness to fly is entirely up to you. Before you decide on BasicMed, however, we recommend that you check with your insurance carrier, FBO, and anyone else you fly for to determine if they will accept BasicMed. The majority are accepting BasicMed, but some do not.
What is New Hampshire Aerospace's role in BasicMed?
New Hampshire Aerospace can help you with:
Your first medical certificate.
A new medical certificate.
Starting the special issuance process if you have had a disqualifying event.
However, New Hampshire Aerospace does not perform the BasicMed certification. As Aviation Medical Examiners, we are designated by the FAA to perform examinations for the issuance of an FAA medical certificate. BasicMed certification is designed to be performed by the state licensed physician who provides your primary care. It is our opinion that your primary care physician's knowledge of your medical conditions and overall health is an integral part of the BasicMed program. As such, we do not feel that we should certify pilots under the BasicMed program.